New Partnership
Find out how your DSP and RDS company can build and customize multi-vendor marketplaces at the local level, manage and optimize the logistics of deliveries.
Learn more
The ultimate solution for

Delivery Management

Cartwheel gives you all the tools you need to make your delivery fast, easy, safe, compliant, and profitable.
INCREASE YOUR REVENUE

Take advantage of our integration network to explore more revenue opportunities

REDUCE YOUR COSTS

Courier live-tracking, route optimization, smart auto-batching and other powerful features allow you to lower the delivery costs and work smarter, not harder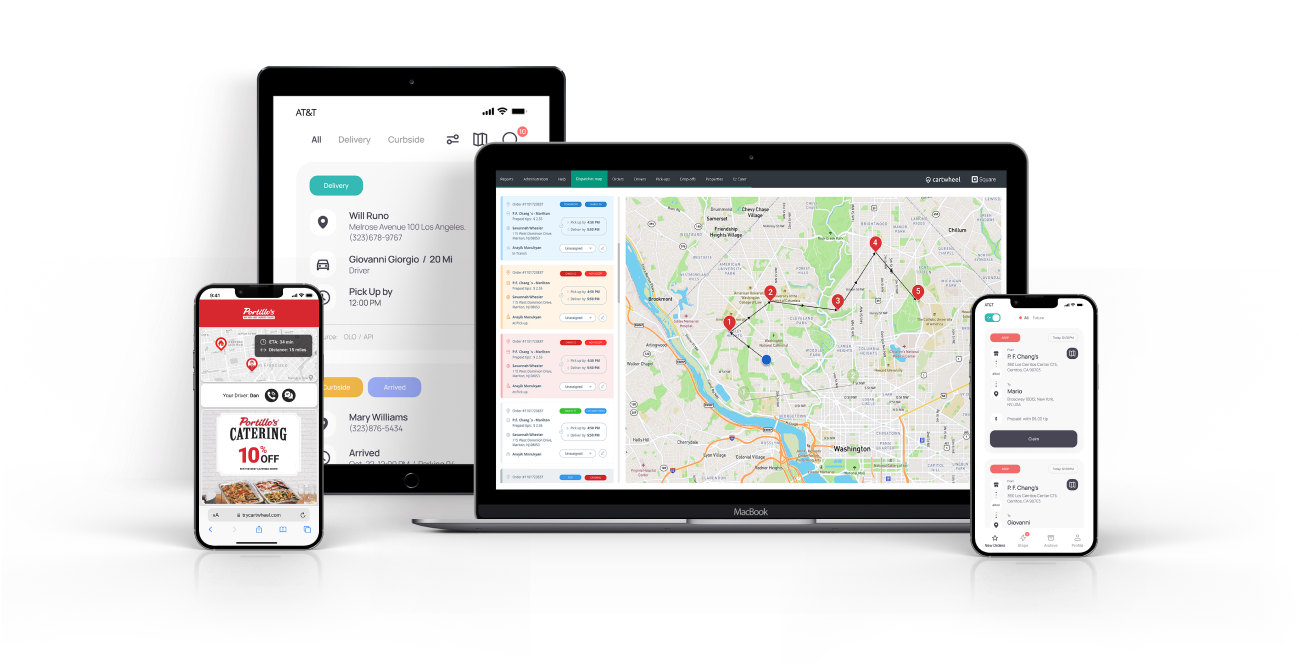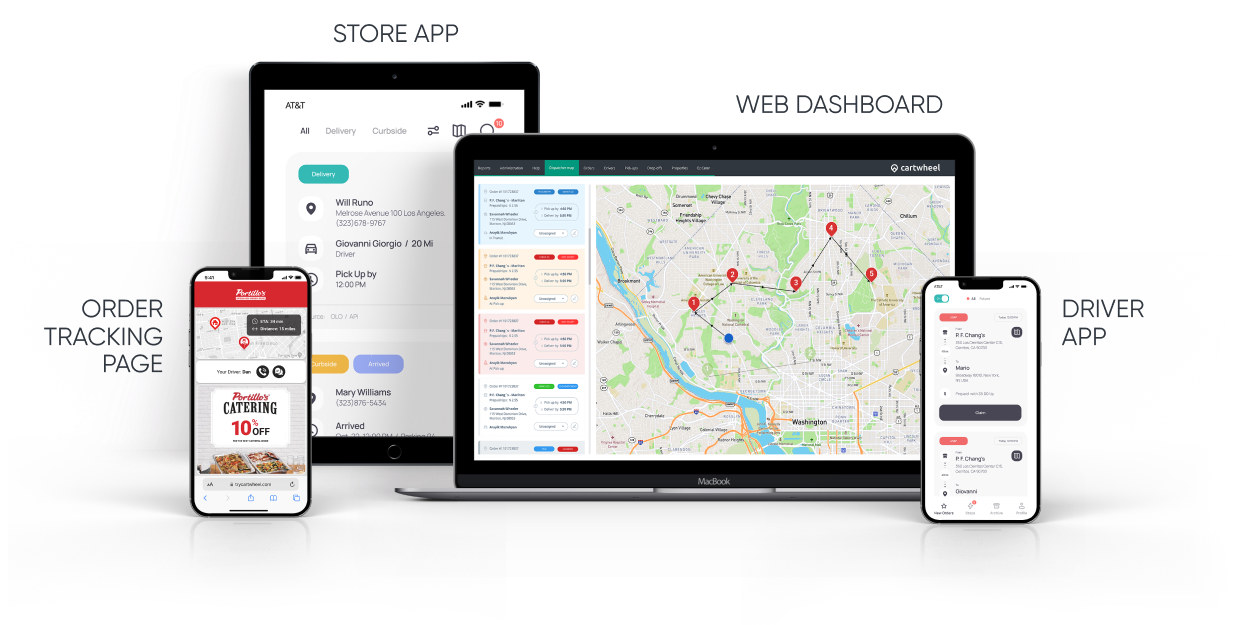 ORDER TRACKING PAGE
Lets your clients know exactly where their order is on a custom-branded page. Phone masking for direct, secure communication with drivers.
STORE APP
Track and manage your deliveries in real time.
WEB DASHBOARD
Manage on-demand and pre-scheduled orders, drivers and routes in one place. Create optimized routes and track drivers in real time.
DRIVER APP
In-house drivers can view incoming delivery orders, order details, map navigation. The App includes age and ID verification, photo and signature capture, barcode scanner.
Our partners:
FULFLLD Case study
Learn how the courier company FULFLLD scaled from 5 cities to 8 in just 3 months while achieving a 98% on-time delivery rate, reducing time-to-quote by 30%.
How It Works
01
ORDERS
Client places an order on your website/app or via one of your partners.
Access to hundreds of businesses' orders
Smart order distribution
02
WEB DASHBOARD
Order automatically reaches dispatcher app (web and mobile) with all necessary tools to manage the delivery.
Auto or manual driver assignment
AI-powered autodispatch and batching
Real-time driver tracking
Access to back-up fleets during peak times
03
DRIVER APP
Drivers accept orders in real-time in the driver app.
Route optimization
Proof-of-delivery tools
Age verification
04
CUSTOMER TRACKING
When driver picks up the order the customer will receive a text message with a live-tracking link.
Online order tracking
Communication with the driver through masked phone calls and texts
Custom app branding options for your clients
05
COMPLAINT PREVENTION
Get notified if a client low-rates the order.
Contact customers to solve problems before they reach the restaurant
Improve relationships with your clients
06
REVIEW BOOSTER
User is invited to share a public feedback on Google when they leave a 4 or 5-star review.
Give your clients an opportunity to improve their reputation on Google
Features for Courier Services
Fleet Management
State-of-the-art driver tracking, automated dispatch, and route optimization.
Secure Delivery
Age verification (ID scanner). Proof-of-delivery tools: Signature capture, barcode scanner, and image capture.
Customer Satisfaction
Real-time SMS delivery updates, driver location tracking, and feedback collection tool.
Driver Equipment
Offering an easy-to-use app (IOS or Android) with integrated maps, mileage and tip reports.
Seamless Integrations
Access ordering apps, POS providers, and loyalty platforms through our advanced API.
5 reasons to
try Cartwheel
RISK-FREE

Easy to opt out within 30 days

PLUG AND PLAY

Onboarding takes only a few hours

SCALABLE

We grow with you

INTEGRATABLE

Merge with your current tech

CUSTOMIZABLE

You ask, we build
Book a meeting
Jeff Cook
President at Frontier Logistics
"Only after we discovered Cartwheel did we finally find the perfect solution for our operations. This app was basically built for my business."
The right price for you
Our base charge is $0.25 per order. Different price tiers are available depending on your order volume and custom feature requests.
Starter pack
Includes 600 deliveries;
$0.25/order after expiry
Book a meeting
Enterprise pack
Individual solutions
Dedicated team
Custom development
Personal support
CONTACT SALES
CARTWHEEL

For Couriers, by Couriers

10 years

Experience in delivery
---
We opened a restaurant in Los Angeles and soon ranked #1 for deliveries on GrubHub.
2012
We launched a delivery service for 300+ restaurants and liquor stores, becoming Yelp Eat24's highest-ranking partner nationwide.
2014
Meanwhile, we developed our own delivery software and began licensing it to restaurants, liquor stores, and courier services.
2022
Would you like to see Cartwheel in action?
Talk to a Cartwheel expert to learn how our solution can help you boost revenue and increase repeat orders.
You are in good company: