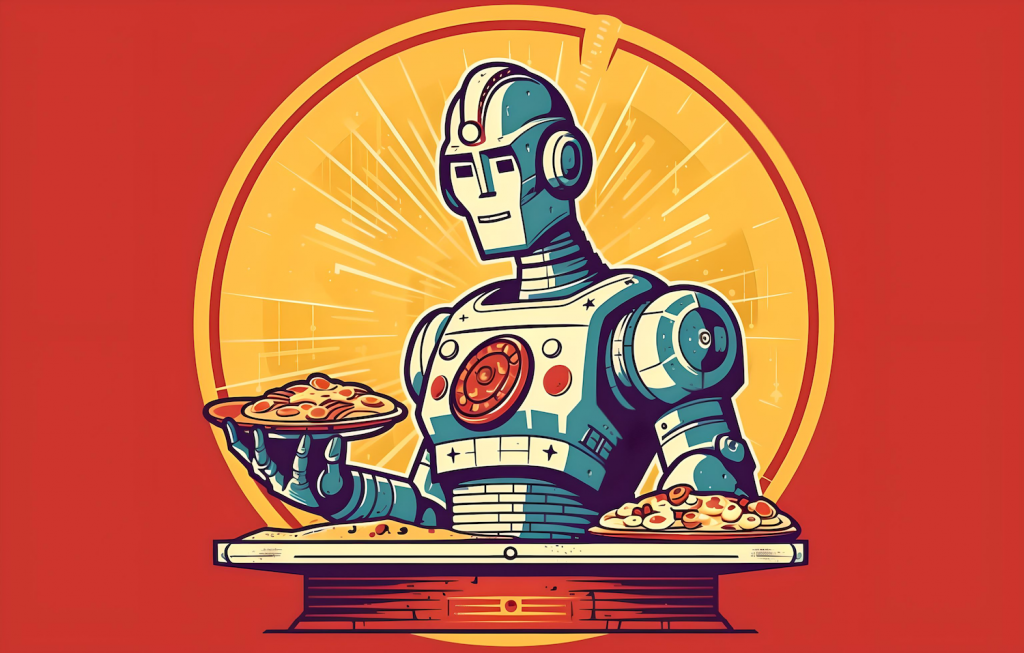 If you're a fan of delicious pizza and cutting-edge technology, get ready to be wowed. Pizza Roboto, also known as Mamma Ramona's Restaurant, is making waves in the world of dining with its latest announcement – a strategic partnership with Cartwheel, the leading enterprise delivery management platform. This partnership is ready to revolutionize the way we experience pizza delivery, not just at your local Mamma Ramona's but also at home.
The Pizza Revolution
Pizza Roboto, founded by tech pioneer Andrew Simmons, is on a mission to transform every aspect of Mamma Ramona's dining experience. From modernizing point-of-sale systems to revamping loyalty programs and even incorporating high-tech ovens, this company is all about the intersection of food and technology. They've even introduced robots to assist with tableside delivery, taking the dining experience to a whole new level.
A Perfect Partnership
The partnership with Cartwheel represents a significant milestone in Pizza Roboto's journey to create the future of restaurant delivery. Cartwheel's Hybrid Delivery technology, seamlessly integrated with Toast, the POS Mamma Ramona is using, empowers the chain to connect with local, independent delivery service providers (DSPs) and a vast network of national third-party delivery drivers. This tech-driven solution offers a seamless flow between order and delivery management, optimizing the entire delivery process.
Pizza with a Side of Tech
Pizza Roboto's founder, Andrew Simmons, is excited about this collaboration. He believes that Cartwheel's advanced technology aligns perfectly with Mamma Ramona's vision. "The flexibility to prioritize different delivery models enables us to support local delivery partners, which we believe provides customers with an even better pizza delivery experience," says Simmons.
Tech-Powered Efficiency
Cartwheel's technology brings some exciting features to the table. It enables automatic order routing and optimization, real-time driver tracking, and user-friendly customer interaction options. What's more, it offers a customizable, branded order tracking interface, allowing restaurants like Mamma Ramona's to increase brand awareness and build customer loyalty.

"We are thrilled to partner with Pizza Roboto and Andrew Simmons, a true pioneer in the world of restaurant automation and digital solutions," said Alex Vasilkin, co-founder and CEO of Cartwheel. "Cartwheel has already piloted several integrations with Mamma Ramona's that further enhance our joint capabilities, and we are proud to be supporting the restaurant's expansion from a delivery management perspective."
A Bright Future for Mamma Ramona's
Mamma Ramona's has big plans for the future, with 24 new restaurants set to open within the next 12 months. These new locations will pop up in Oceanside, California; San Diego, California; and Philadelphia, Pennsylvania, in 2023. And with Cartwheel on board, you can expect a whole new level of efficiency and innovation when it comes to pizza delivery – not only in these locations but also as the partnership continues to grow.
Get Ready for a Slice of the Future
The partnership between Mamma Ramona's and Cartwheel is more than just a business collaboration. It's a fusion of culinary excellence and cutting-edge technology, promising to reshape the way we enjoy our favorite pizza. So, the next time you order from Mamma Ramona's, prepare to be amazed by the efficiency and innovation that Cartwheel brings to the table. The future of pizza delivery has arrived, and it's both delicious and tech-savvy!